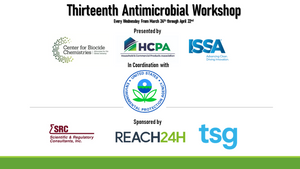 This product contains all 5 sessions of the Thirteenth Antimicrobial Workshop Series
This series of workshops addressed antimicrobials, including disinfectants and includes
Why Attend:  Disinfectants and other antimicrobial pesticides have been front and center during the COVID-19 pandemic. With policy changes around these products accelerating, it is imperative that manufacturers stay abreast of the ever evolving body of laws and regulations that control the manufacture, marketing, and sale of antimicrobials. Stay ahead of the regulatory curve and ensure your success in the marketplace by attending the Thirteenth Antimicrobial Workshop!
Presented By:  The Antimicrobial Workshop is presented by the American Chemistry Council's Center for Biocide Chemistries, the Household and Commercial Products Association (HCPA), and ISSA in coordination with the U.S. Environmental Protection Agency (EPA) Antimicrobials Division. 
Agenda Highlights:  The agenda for the Thirteenth Antimicrobial Workshop is robust as ever touching on the latest developments that are critical to the manufacture, distribution, and sales of disinfectant products:
State of the EPA Antimicrobial Division and registration review
Residual claims of efficacy
U.S. Centers for Disease Control and Prevention (CDC) policies on emerging pathogens including COVID-19
COVID-19 emergency policies for disinfectant registration and amendments
Electrostatic sprayer guidance from the EPA
Antimicrobial Performance Evaluation Program (APEP)
International trends
EPA Design for the Environment program for antimicrobials.
For the complete agenda, please click here. 
Who Should Attend: Regulatory personnel, technical staff, marketing professionals, and executive staff can all benefit by attending this workshop. 
Schedule: 
March 24:

 

State of the EPA's Antimicrobial Division; registration review; residual claims of efficacy
March 31:

 

Impact of COVID-19 on public policy and industry supply chains
April 7:

 

 Organization for Economic Cooperation and Development (OECD) quantitative method; Legionella protocol; APEP and reduced animal testing
April 14: International trends and trade developments
April 21:

 

EPA Design for the Environment for antimicrobials; Green Seal standard for hand sanitizers; Antimicrobial Exposure Assessment Task Force.