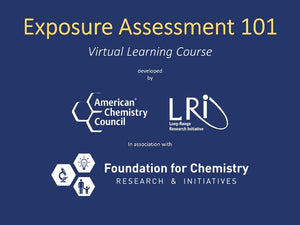 *Now Complimentary*
Exposure Assessment 101 is an introductory virtual learning course developed by the American Chemistry Council's Long Range Research Initiative in association with the Foundation for Chemistry Research and Initiatives. This is a survey course that will cover exposure assessment principles and familiarize participants with various types of specific exposure models through modules covering new chemicals, consumer exposures, worker exposures, and environmental exposures. While the course introduces and explains a number of different exposure models, it is not an in-depth training course on running exposure models. 
Registration is open through December 10, 2023 (course videos will be available through December 30, 2023). 
The course is comprised of 8 webinar lectures (each approximately one hour in length) covering 5 topic areas (modules):  
Module 1: Exposure Assessment Basics

Module 2: TSCA New Chemicals Program Exposure Models 

Module 3: Occupational Exposure Assessments (Parts 1 and 2)  

Module 4: Consumer Product Exposure Models (Parts 1 and 2)  

Module 5: Environmental Exposure Models (Parts 1 and 2) 
The Exposure Assessment 101 Glossary of Terms and Supplemental Information can be accessed here.
*All information and technical advice is given without warranty or guarantee and is subject to change without notice. The manner in which you use and the purpose to which you put and utilize our advice and information are beyond our control. Therefore, it is imperative that you conduct your own analysis to determine whether the technical advice and information are suitable for your intended uses and applications.