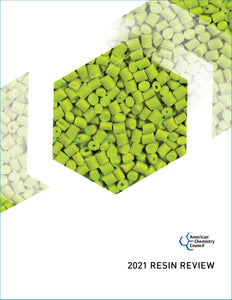 Resin Review is an authoritative resource for comprehensive statistical measurements of the North American plastic resins industry.
The 2021 edition contains detailed resin data tables from 2010-2020 on domestic production, sales and captive (internal) use by end-use application, sales distribution by major market, industry capacities, and capacity utilization rates.
 
Sales data are segmented into various end-use markets from 2016-2020 for major thermoplastic resins. A table with historical data on U.S. plastics production and sales tracks the trend from 1973 to 2020.
 
The nearly 100-page reference manual also lists reporting producers for each resin, explains the basics of polymer chemistry and manufacturing processes, details the history of plastics development and modern-day applications, provides a glossary of plastics terms, and lists additional sources of plastics industry information. 
Resin Review is compiled annually from data collected by ACC's Plastics Industry Producers' Statistics Group and other sources.
Data reported for the following resins only: Polyethylene (LDPE/LLDPE/HDPE), Polypropylene, PVC, Polystyrene, Expandable Polystyrene (EPS), Epoxy, and for Polyurethanes (MDI, Polyether Polyols, and Thermoplastic Polyurethane (TPU)). 
This is a downloadable PDF version. A hard-copy version of the 2021 edition will not be made available.

Interested in receiving more comprehensive industry data? For details on becoming a subscriber to ACC's monthly statistics reports on production and end-use sales for major plastic resins, as well as other industry measures, please visit www.americanchemistry.com/resin-report-subscriptions