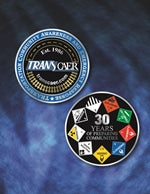 TRANSCAER® Celebrates 30th Anniversary with Commemorative Challenge Coin
In honor of TRANSCAER®'s 30th Anniversary Celebration, the National TRANSCAER® Task Group Executive Committee is pleased to offer for purchase a small token of appreciation highlighting the commitment, dedication, and support of our unique nationwide volunteer outreach effort focusing on preparing communities for possible hazardous materials transportation incidents.
A limited supply of our 30th Anniversary Commemorative TRANSCAER® Challenge Coins is available for purchase.
Help us celebrate our 30th Anniversary by getting your limited TRANSCAER® coins shipped directly to you today.